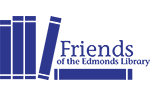 As we get closer to the opening of our Library, here's an update on how the Friends of the Edmonds Library supports the Library and the Community….
Q: When will the Library open?
A: The Library expects to be open and welcome back customer in the late summer/early fall of 2023. As construction progresses, please stay updated with the latest information on construction here…. here.
Q: When is the annual book sale?
A: Various factors, such as lockdown, closure and limited physical space, all affected the Friends of the Edmonds Library annual book sale event. We acknowledge everyone's enthusiasm to rekindle this annual event. As we anticipate the library's reopening, we will work on revitalizing this fun community event in the coming year.
Q: I would like to volunteer, where do I sign up and get more information?
A: As the library adjusts to the new facility and achieves regular activity, the library will reach out to the community to restart the volunteer program. We anticipate starting in 2024.
Q: Who do I contact if I have books to donate?
A: Friends of the Edmonds Library is suspending book donations/drop-offs until the library reopens. We simply do not have room to house the books currently. Once the library reopens, we will resume book donations. By that time, you can visit our website , by clicking HERE, then go to the donate page, and you can find out more about the process. Thank you for your book donations and for expanding this program with our community.